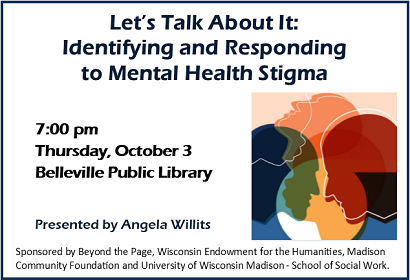 Where:
Belleville Public Library
When: Thursday, October 3, 2019 at 7:00 pm
What is stigma? What creates stigma?
Let's Talk.  Can you recognize mental health stigma? Why is mental health stigma a problem? What can we do to reduce mental health stigma? Mental illness stigma comes in many forms. Exclusion, silence, and labeling are just a few. Through self-reflection, discussion and interactive exercises, learn about how you can recognize mental health stigmas, what happens when people are stigmatized, and what you can do to help reduce the resulting problems.
Presented by Angela Willits, Clinical Assistant Professor.
Sponsored by Beyond the Page, Wisconsin Endowment for the Humanities, Madison Community Foundation and University of Wisconsin Madison - School of Social Work.