Image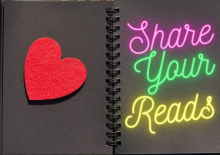 Share or look for a great read!
You will find book reviews by patrons and staff here, and an online book review form and a few websites that you can find additional great reads!
Book Reviews:
The House on Tradd Street

This is the first book of the seven-book series "Tradd Street". The seventh book was released in 2021. These are ghost stories. One main character with her strengths, powers and flaws lives in Charleston in and among historical houses with some friendly and sometimes not friendly ghosts. She doesn't go looking for these ghosts, they find her. Various family members help and hinder. This author has many stand-alone books that touch on a variety of subjects with unique characters that makes for interesting reads. - Rachel

Image

Stargazer

 

Anne Hillerman returns with another Leaphorn, Chee and Manuelito book set in the Navajo Nation.  Manuelito looks up to the stars as she investigates the murder of her college friends's ex-husband.  Another great read.  Hillerman took over from her father, Tony Hillerman's 18 Leaphorn and Chee novels. This is book 24. - Susan

Image

The Four Winds

 

Very Good Read,  Life challenges during the Dust Bowl,  Author also wrote The Great Alone.  Another good read. - Georgianne

Image

I Thought You Said This
Would Work

I always like books set in or in reference to Wisconsin.  This one is a laugh/cry story of women friends that may trigger an "I had a friend just like that" in each of us.  Author is local writer/teacher at UW Madison. -Georgieann

Image

The Poisoner's Handbook

"Murder and the Birth of Forensic Medicine in Jazz Age New York". This book is a fascinating look into the birth of the toxicology field in the 1920s.  The author does a wonderful job of integrating real poisoning cases in a chronological order rotating around the known and unknown everyday poisons in the 20s: Ethyl and Methyl Alcohol, Arsenic, Carbon Monoxide, Cyanide, Thallium, Radium, etc.  I could not recommend this book more to those interested in true crime, chemistry, toxicology, forensics, a good mystery, and discovery. - Hayley

Image

A Spy in the House

I couldn't stop reading this book. While I'm normally not a fan of romance in my books, it wasn't overly stated and more of a subplot for the protagonist. There are all sorts of twists and turns, some of which caught me off guard, and plenty of strong female characters. Overall, a very enjoyable read for a good shot of adventure/mystery. - Brienne

Image

Bedeviled Eggs

This book was very fast paced and funny. I very much enjoyed the Halloween party she described and the fun and loving small town community she depicts. The characters are memorable and the surprise twist and cliff hanger makes for a great ending that hooks the reader into wanting to read more! - Delia

Image

How to be an Antiracist

I listened to the book through audible where it was read by the author himself. It was a very good book to listen to and the author did a great job providing examples from his life on the racism imposed on minorities both from within and from outside their race. It is a great book to read if you want to start learning and educating yourself on racism as it dives into the issues, provides great definitions and examples but doesn't get so technical that you get lost in the content provided. - Crystal

Image

One Good Turn

This was the second book in a series featuring detective Jackson Brodie. The story takes place in Edinburgh, and I found it to be a quite enjoyable murder mystery. The title was One Good Turn; a Jolly Murder Mystery. Not sure what that refers to as the story wasn't what I would call jolly, nor was there a character named Jolly. The mystery was literally unraveling right up to the last sentence. Definitely adding this series to my already long to be read pile. - Denise

Image

The Book Woman of
Troublesome Creek

This book was beautiful. It's incredibly powerful emotionally and covers topics that are still important to this day - poverty, discrimination and intolerance, loss, and so much more. It's a book that I would recommend to anybody. I didn't want to put it down. The narrative is gripping and the characters are all so real. I could practically imagine being along Cussy's library route, waiting eagerly for the books she and Junia would bring. It's a powerful, well written book that discusses difficult topics in a manner that doesn't make the reader want to turn tail and run. - Brienne

Image

Oathbringer

 

The first two books in the series move a lot faster than this one. Oathbringer instead gives you insight into Dalinar's dark past and focuses a lot on Shallan's internal struggles with self-identity. While there are many important themes discussed including whether or not the means justify the ends, the book doesn't pick up until part three. Do not read this book unless you're prepared for heartbreak as Brandon is not afraid to hit main characters with a bit of reality. - Brittney

Image

Firefly: The Big Damn
Cookbook 

 

I absolutely love this cookbook. The recipes are easy to follow and most (if not all) of the ingredients are easy to get ahold of, unlike some cookbooks I've immediately been discouraged by after opening to the first recipe. The recipes I've tried have all ben lovely, it's a book I would consider purchasing to keep on hand at all times. It's beautifully in character with 'notes' from the crew on different pages. The author did an excellent job with this book. - Brienne

Image

All the Light We
Cannot See

 

Excellent - Rachel

Image

The Stowaway

 

I personally had a rather uncertain relationship with this book. I can certainly see the appeal to those who enjoy nonfiction, particularly with such a fascinating subject as Billy Gawronski and his adventures throughout life, including his stowing away on Byrd's adventure to Antarctica. I love reading about Antarctica and the expeditions there, but I personally (as a much more avid fiction reader) would have been better off choosing a historical fiction style book. I can see the author put quite a lot of research and study into this book and appreciate how much information she was able to get. For a nonfiction book, it's fantastically written and bursting with information and well written scenes that easily brought images to the mind's eye. -Brienne

Image

The Gilded Hour

 

Historial Fiction.  The book follows two strong women who are two of the few female doctors in the late 1800's, both graduates of the Women's Medical School.  Doctors Anna and her Mulatto cousin Sophie live and practice in 1883 New York City.  They battle with Comstock, an anti-vice crusader (and real historical figure), assists to find who are murdering well-to-do mothers seeking family planning, locate missing orphaned siblings and find a little love at the same time. Those familiar with Donati will recognize these doctors are the decendants of characters is the Wilderness series. Donati has a way with words making you feel like you are there in New York with the rich the poor and those in between.You get a new sense of what the landscape of New York was like in 1883. Book Two of this newer series came out in 2019. -Susan

Image

The Secret, Book
& Scone Society

 

Normal business women with intuitive abilities living in a (sort of) normal town.  This is book one. Book four was released in January, 2021.
This series is a cozy mystery which I don't normally pick up. I am not sure why I picked this one up (perhaps the visual of books and scones on a beautiful book cover) but I am enjoying this series. The author seems to write better with each book. -Rachel

Image

Little Faith

 

 I read an article, "The River We Swim,"  by Nickolas Butler  in The County Today and was intrigued by his writing style and his message of knowing what we are capable of. I called the library and later that day, I picked up four of Butler's books. I read "Little Faith" first. The story looks at doubt and how a person can be challenged during the course of his or her lifetime to believe or not believe in the faith tradition that he or she is  grounded in. As we experience the challenges of 2020, there are no easy answers to most questions, which is something the novel addressed, but didn't answer. "Little Faith is an  intergenerational story about family and community and how our faith is challenged during each season of the year and the seasons of our lives. -Marian

Image

Cast in Shadow

 

Book was very well written but the world building needs to be explained more. Also, instead of reading the first book of this series I would recommend reading 6.5 first. This is the main characters backstory and things make much more sense this way. -Delia

Image

Fated for Felony

 

Out of all the psychic eye mystery books this one was a personal favorite. Not only is there a cold case that needs to be solved, and a serial killer on the loose, but the sheer genius in which she ends the book on a plot twist is amazing. Something this author has never done is leave a book on a cliff hanger. Can't wait for the next book in the series! - Delia

(This is book 16- The first in this series is Abby Cooper, Psychic Eye)

Image

Crush the King

 

I have never disliked a Jennifer Estep book and this one definitely holds true. Estep is wonderful at world building without making it overly complicated to understand. Action scenes are beautifully written and the whole plot of this book made it hard to want to put it down. -Delia

(This is book 3- The first in this trilogy is Kill the Queen)

Image

The House in the
Cerulean Sea

 

I want to read more by this author!  Klune has a way with words and such an imagination!  Open this book and transport yourself from a dark, dreary, rainy existence to a magical island full of adventure, love, laughter, magic... and a "different" viewpoint on how to treat and act around others who may not look like people you are used to, even if Extremely Upper Management from the Department in Charge of Magical Youth disagrees. -Susan

Image

Homes: A Refugee Story
(available as e-book)

 

"Homes: A Refugee Story" by Abu Bakr al Rabeeah is a biography written by a young Syrian refugee with the help of his ESL teacher in Canada.
This first-hand account of fleeing a war torn nation told through a child's eyes evokes empathy and puts a face to one of the most pressing humanitarian crises of our time. Abu Bakr's ability to reflect on his disrupted and displaced daily norms, like playing soccer with his cousins and his family's persistent entrepreneurial spirit, due to violence in his home nation is appropriate for all ages and will certainly only grow in importance as we look for historical non-fiction to teach our own children what occurred during the Syrian civil war. I would recommend this book to anyone looking to disentangle political headlines with the reality of what the Syrian conflict has meant for families just like yours. -Marie

Image

Mistress of the Art of Death

 

Historical fiction at its best.  Franklin creates Adelia, the only female forensics investigator in the  middle ages.  Trained in the east by learned men, she is summoned to find the villain who has murdered children in King Henry II's realm.  Jews are blamed, but are they responsible for the deaths?  Adelia is a wonderful character created for Franklin's series of medieval mysteries.  She is strong, independent and oh so, bright.  This is the first book and you will want to read the entire series. - Dawn

Image

Perfect Days

 

A psychological thriller that is equal parts disturbing and implausible.  Yet I was hooked by the first chapter.  The book takes place in Brazil, and without giving much away, is the story of a loner med student and the woman he falls in love with. -Denise

Image

Undaunted Courage

 

The author is a true storyteller of this non-fiction book as he takes you are on a journey exploring uncharted territory. I highly recommend this book. -Rachel

Image

Accidents of Providence

 

Set in 1649 London as Cromwell is taking over the kingdom after the beheading of Charles II, the novel is the story of Rachel Lockyear, a glove-maker's apprentice, who is arrested for killing her newborn baby.  But did she? Rachel is the victim not only of severe new laws, but of her affair with a married nobleman. The novel is a gritty, well researched portrait of 17th century England as well as a mystery and a love story.  Pelletier creates full-bodied characters.  If you liked "The Dress Lodger," "Fingersmith," or "Year of Wonders," you will like Rachel's story. -Dawn

Image

The Lost and Found
Bookshop

 

Family is family and each one has a truth. - Georgiann

Image

A Long Petal of the Sea

 

A historical novel/love story about refugees from the Spanish Civil War relocated to Chile.
One of my favorite authors, and this is one of her best! -Nancy

Image

The Bitter and Sweet
of Cherry Season

Family dynamics and likable characters who mess up. -Rachel

Image

Dear Edward

This is one of those books that I enjoyed without reading the inside cover. -Rachel

Image

Lady Clementine
Historical Fiction

The Woman behind the man

This is the fourth book by bestselling author Marie Benedict, this time featuring the extraordinary life of Lady Clementine Churchill, who helped make Winston Churchill the figure we all know. 

Marie Benedict writes about a different woman in history in each book she pens - each a woman who helped shape the man remembered in history books. -Susan

Image

Travels with Charley in Search of America, Biography

This is one of my most favorite books to read/listen to for pure enjoyment of the story. I am listening to it for the 3rd time and have actually read the book 2 other times before in the course of my adult life. - Crystal
A Few Websites To Find Additional Great Reads
 

Image

Read reviews of upcoming books, author interviews and more.

Image

Periodicallay we have chatted about the books we've liked.  Look at our book notes of what we books we shared and talked about.

 

Image

See what we've been reading, since 2013!  Some we've liked, some we've loved, and others we've could have done without.  Read, and you decide!

Image

Meet your next favorite book.

Image

Top Ten books published this month that librarians across the country love!
Want even more suggestions? Visit their archives for the top ten lists of previous months.

Image

Book reviews, annotations, etc., for over 200,000 titles. Titles searchable from Novelist Plus database to Linkcat. Subscription service. Use your Library Card to access.