Image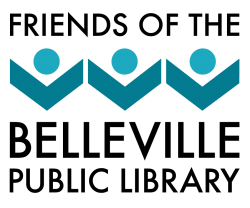 The Friends of the Belleville Public Library is a non-profit organization dedicated to our library and its cultural, educational, and recreational value to our community.
Our Mission
The mission of the Friends of the Belleville Public Library, Inc. is to:
Maintain an association of persons interested in libraries, life-long learning, and cultural programs
Focus public attention on the library and educate the community in the use of library resources and services
Receive and encourage gifts and bequests to the library
Support and cooperate with the library in developing library services and facilities for the community
Financial sponsor adult and children's cultural and educational programs
What We Do
The Friends provide volunteers and funds to support the library's goals and improve local library services and facilities. Here are some recent examples:
Built a "Take Us To Your Reader" float for the UFO Day parade.
Sponsored two raffles to help the Library reach their "Beyond the Page" fundraising goal.
Hosted the Library's 135th Anniversary Mini Golf event.
Hosts annual Trivia Night and events for children and adults to celebrate National Library Week in April.
Learn More
Contact
You can email questions to BellevillePublicLibraryFriends [at] gmail.com or visit our Facebook page.
Image

Image

Image

Image

Image