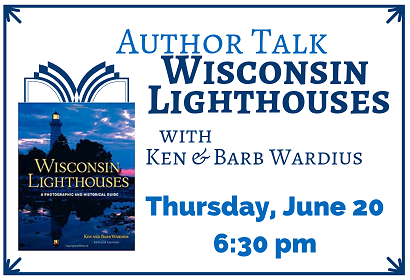 Where:
Belleville Public Library
When: Thursday, June 20, 2019, 6:30 - 7:30 pm
Barb and Ken Wardius, authors and photographers of the book "Wisconsin Lighthouses--A Photographic and Historical Guide" offer a slide/lecture presentation that highlights many of Wisconsin's historical beacons. Our program is approximately 45 minutes in length and features many stunning images in a combination of lecture, story telling and music. We narrate our original slide show live and welcome questions and comments following the program. The presentation covers 1/3 of the lights in the state, including Cana Island Lighthouse, Wisconsin Point Light, Sand Island Light, Rockwell Lighthouse, Rawley Point, Wind Point and many more.
This Wisconsin Lighthouse program is perfect for anyone interested in lighthouses, maritime history or simply breathtaking photography.
Copies of their book, Wisconsin Lighthouses will be available for purchase from the authors after their presentation.