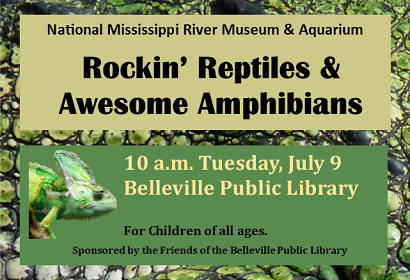 Where:
Belleville Public Library
When: Tuesday, July 9, 2019 at 10:00 am
Become a herpetologist and explore the world of reptiles and amphibians!  Learn about some of their amazing adaptations and the important roles they play in nature.  A few live animals will stop by to help us learn!
For children of all ages.
Sponsored by the Friends of the Belleville Public Library.
If you need accommodations to attend this program please call 424-1812 two weeks in advance.
National Mississippi River Museum and Aquarium presenting.