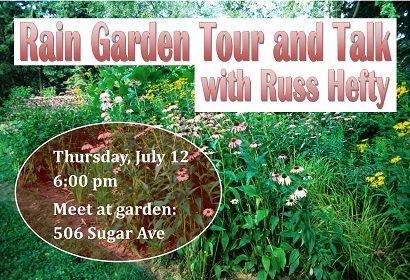 When: Thursday, July 12, 6:00 pm
Where:506 Sugar Ave, Belleville
Tour Russ Hefty's rain garden. 
Russ Hefty will talk about his garden and answer questions about his nearly 200 species of native plants growing in the yard. Russ designed and implemented the rain gardens at his home in 2015.
Russ Hefty has a degree in Horticulture and is the former Conservation Supervisor at the City of Madison Parks. There are also a variety of other natural gardens that I have planted in the yard including 3 sand prairies created by removing existing soil to a depth of 6 feet and replacing that with coarse sand.