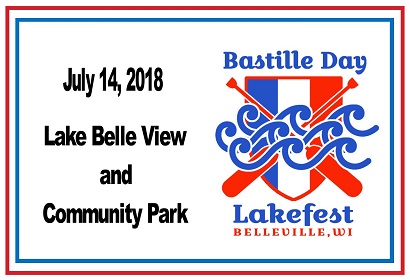 Building off of the Belleville Lakefest and Storm the Bastille 5K Run/Walk annual events, we are pleased to announce Bastille Day Lakefest - a unique festival showcasing Belleville's French Heritage, Lake Belle View and Community Park, its amenities and improvements and Main Street.  This event will offer environmental education & wildlife habitat learning and promote health & well-being.  There will be music, wine & cheese tasting and food &drinks featuring local non-profit organizations, youth sports clubs and area businesses.  Except for the races, participating in the events are free! 
The Friends of  the Belleville Public Library will be sponsoring an Ice Cream stand.
PADDLE & PORTAGE RACE on the scenic waterways on Lake Belle View. 
Race for Individual Youth/Adult Kayak begins at 4pm.
Team Youth/Adult Canoe race begins at 5pm.
Sponsored by Sugar River Outfitters. Test your skills! Beginners as well as experienced paddling enthusiasts.  Adult and youth individuals on kayaks or adult and youth teams of two on canoe participants are welcome!  All participants must register.  Sugar River Outfitters is able to provide kayaks and canoes on a first come-first serve basis. Please indicate on the registration form if you are bringing your own to help in planning. If you have questions contact Kelly Hickman at 608-692-7910 or at help@SugarRiverOutfittersWI.com.
5K RUN/WALK
The Race/Walk begins at 7:30 pm at the Citgo Gas Station – 128 W. Main St., Belleville.  
To celebrate Belleville's French heritage on a course that is flat with gently rolling streets in and around downtown Belleville.  
First, second and third place winners for the Men's and Women's 5K RUN will be awarded to the following age categories: 13-19, 20-29, 30-39, 40-49, 50-59 and 60+.  If you have questions, contact BCHIP at 608-217-7643 or at flickster6@charter.net. 

1 MILE YOUTH RUN for 12 years old and under.  
Run begins at 6:30 pm.
Join your friends in Belleville's Community Park for a one mile run on the beautiful Lake Belle View loop.  First, second and third place winners will be awarded. All runners receive a participation medal.  If you have questions contact BCHIP at 608-217-7643 or at flickster6@charter.net.  The first, second and third place winners will serve as the Marshalls for the Bastille Day Lakefest Foot Parade that begins at 7PM.   
BASTILLE DAY LAKEFEST FOOT PARADE
begins at 7PM
Full schedule TBA.
Belleville Public Library is a sponsor of Bastille Lakefest.