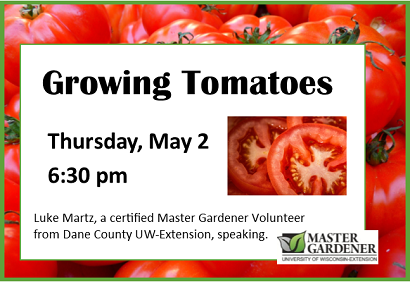 Where:
Belleville Public Library
When: Thursday, May 2, 2019 at 6:30 pm
Have you ever had the pleasure of eating a sun-kissed tomato right off the vine?  If not, you don't know what you're missing.  Tomatoes are the most popular vegetable grown in our area.  They can also be one of the most challenging to grow due to the number of diseases to which they are susceptible. Luke Martz, a certified Master Gardener Volunteer from Dane County UW-Extension, will share information about successfully growing tomatoes in Dane County.  You will learn how to choose the right varieties for you, starting tomatoes from seeds, preventing and dealing with diseases, and harvesting and storing tomatoes.