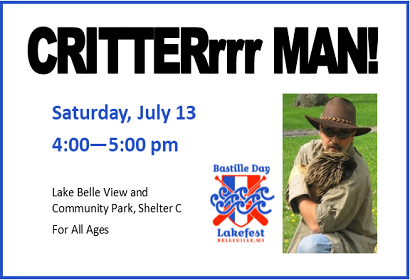 Where:
Lake Belle View and Community Park, Shelter C
When: Saturday, July 13, 2019 at 4:00 pm
Chris Langenfeld is a a member of the Wisconsin Association of Environmental Educators, the National Scenic Ice Age Trail, and currently serves as the Executive Director for the Humane Society of Portage County. His crazy animal puppet show, sponsored by the 
Belleville Public Library
, entertains, educates and inspires!  Caution...there will be dangerous levels of humor!
Part of Bastille Lakefest Day.