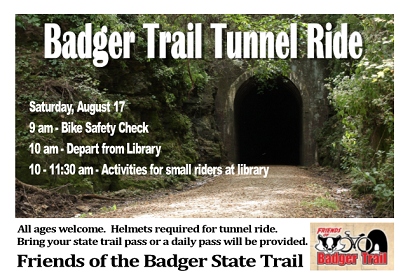 Where:
Belleville Public Library
When: Saturday, August 17, 2019 - Meet at Belleville Public Library
9am - 10:00am - Bike/safety check 
10:00am - Departure for the tunnel (approximately 7 miles round trip).
10:00am - 11:30am - Activities at the library for our smaller riders. 
Join the Friends of the Badger State Trail for a guided bike ride down to Stewart Tunnel in the morning to learn about the trail and local railroad history.   
During the Bike/ Safety Check Kurt will be checking brakes, tires and height of seat. 
All ages welcome. Bring your state trail pass or a daily pass will be provided. Helmets are required during the ride.  Flashlights will be on hand, though you are welcome to bring your own.
Small Rider crafts
Make your own bike tassels for your bike inside the library