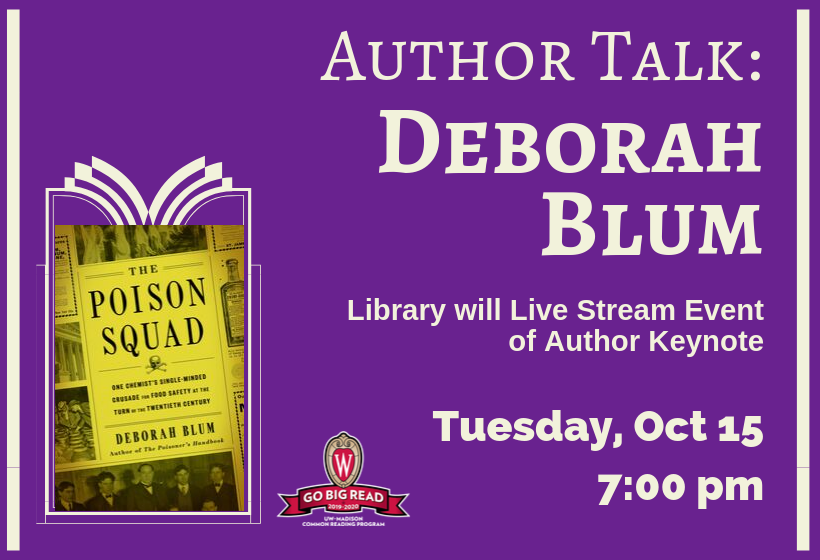 Where:
Belleville Public Library
When: Tuesday, October 15, 2019, 7:00 PM
Belleville Public Library will be live-streaming this Keynote event with author Deborah Blum.
Here is a recording of the live-stream on YouTube.
From Pulitzer Prize winner and New York Times-bestselling author Deborah Blum, the dramatic true story of how food was made safe in the United States and the heroes, led by the inimitable Dr. Harvey Washington Wiley, who fought for change - From the Publisher
About the author: 
Deborah Blum is director of the Knight Science Journalism Program at MIT, and publisher of Undark magazine, (undark.org). In 1992, she won the Pulitzer Prize for a series on primate research, which she turned into a book, The Monkey Wars. Her other books include The Poisoner's Handbook, Ghost Hunters, Love at Goon Park, and Sex on the Brain. She has written for publications including The New York Times, Wired, Time, Discover, Mother Jones, The Guardian and The Boston Globe. Blum is a past president of the National Association of Science Writers, a fellow of the American Association for the Advancement of Science, and a lifetime associate of the National Academy of Sciences.
Find out more in the official press release and mark your calendars for the keynote event:
Tuesday, October 15, 2019
7:00 P.M.
Memorial Union Theater – Shannon Hall
No tickets required