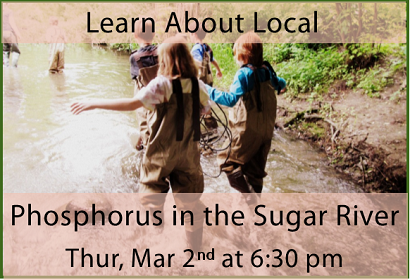 When:
Thursday, March 2, 2017 - 6:30pm
Where:
Belleville Public Library
Water quality is currently a hot topic in the news. Learn more about our local watersheds with Marty Cieslik, Construction Manager for the city of Verona and President of the Board of the Upper Sugar River Watershed Association.
Cieslik will share information on phosphorus levels and management in the Upper Sugar River. The Upper Sugar River Watershed Association (USRWA) has completed 2 years of phosphorus monitoring in the watershed.
Phosphorus is an important plant nutrient. High concentration of phosphorus in water bodies causes algae blooms.