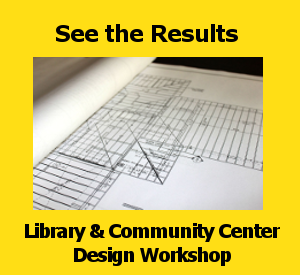 New Library and Community Center
The design of this new facility is in the early stages, and much work remains to refine the ideas generated during the Design Workshop into a plan that will offer the most value to Belleville area residents.
We welcome your comments and questions, so that together we can create a Library and Community Center that will provide opportunities for lifelong education and community gathering space for years to come.
See the Background section below for the steps that have been taken so far.
Library Design Workshop - March 9-10
Thank you to the more than 65 people who spent time at our Design Workshop.  Their ideas and opinions guided the architect team's work over the two days.
See the Design Charrette Workshop Booklet for all of the interior and exterior concept drawings developed during the workshop along with the public's comments. The booklet is also available in print at Belleville Public Library for viewing or checkout.
The highest ranking concepts were L1, K, and J.  Concept L1.1 was developed after the workshop based on public comments at the final meeting of the design workshop.
Concept L1
Concept L1.1
Concept K
Concept J
Additional Interiors
Background
After much careful thought during the library's strategic planning process and the village's municipal facility study, the Library Board and Village Board have agreed to create a larger, more versatile library for Belleville. The new Library and Community Center will bring people together, support learning through all stages of life, provide community gathering space, and enrich the lives of our community members. The current library building may become the new police station.
Steps taken so far:
| | |
| --- | --- |
| 3/9/2017-3/10/2017 | The architect team from FEH Design held a two-day conceptual design workshop at the Library.  Members of the public, village board, and library board offered their ideas about the features and functionality they wanted in a new library and community center.  Three site plans --- J, K, and L1 --- were identified for further consideration. |
| 02/16/2017 | Village Board submitted an offer to Landmark Cooperative for the Old Mill site at 20 S. Park Street. |
| 11/07/2016 | Village Board approved Resolution No. 2016-11-1 authorizing the construction of a new Library and Community center. |
| 10/13/2016 | 100 Extraordinary Women fundraiser successfully raised over $100,000 for the building fund. |
| 08/15/2016 | Capital campaign building fund was setup with the Madison Community Foundation. The initial deposit was donated in memory of Larry Lasure, a long-time patron of the Belleville Public Library. |
| 09/17/2015 | Village Municipal Facility Study published. |
| 07/13/2015 | Library Strategic Plan published. |