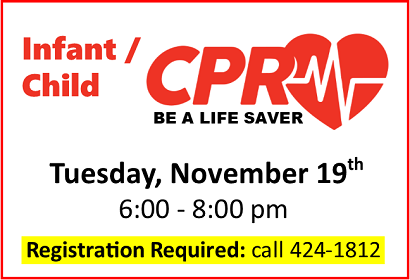 Where:
Belleville Public Library
When:  Tuesday, November 19, 2019 and Tuesday, December 3, 2019 at 6:00-8:00p.m.
Would you know what to do if a child is choking or isn't moving or breathing? 
Learn CPR techniques specific to infants and children so you are ready in a life-threatening emergency. Belleville Area EMS will demonstrate and provide plenty of time for you to practice using a child-size mannequin. This class is free, but space is very limited.
Thank you to the Belleville Area EMS for these non-certification training classes.
Call the Library at 424-1812 to reserve your spot.